Need an event catered?
Farmstead Cafe caters weddings, baby showers, graduations, get-togethers, and more! We have a wide variety of options, including staffed events or delivery, coffee bars, buffets, deserts, charcuterie boards, or classic dinners.
Options listed are just a few examples. Contact us for more options or for a consultation.
Space Rental
Farmstead Cafe offers two options for space rental. Our studio upstairs comfortably seats up to two dozen people, and is furnished with tables, chairs, couches, a small sink, two bathrooms, and a speaker for music. Price is $40/hour or $20/hour if food is also being purchased.




Or rent the restaurant! Any time we're not open (Sunday and Monday all day, and Tuesdays, Wednesdays, and Saturdays after 3 pm) you can rent the downstairs dining area for a max capacity of 50. $150 for the first hour and $100 for every hour after that.
Or we can deliver to one of the event venues around Luther, or your own house!
Pricing
Boxed Lunches $8.50/box
One of the simplest catering options. Sandwich boxed lunches include a sandwich (choose from turkey, ham, chicken, chicken salad, or a variety), packets of spread, a bag of chips, and a cookie.
Take-and-Bake Pizzas
Cheese $8.50/pizza
1 Meat $10/pizza
2 Meat $12/pizza
3 Meat $14/pizza
Calzone $12/pizza
Soup by the Quart $12/quart
We have a variety of soups, including hot soups and cold soups. Some of our favorites are creamy Green Chili Chicken, Red Beans and Rice, Southwest Corn Chowder, Chicken and Sausage Gumbo, Zuppa Toscana (Italian Wedding Soup), Creamy Peach, and Watermelon Gazpacho.
Contact us for more options, or sit down with us for a consultation.
Topping Bars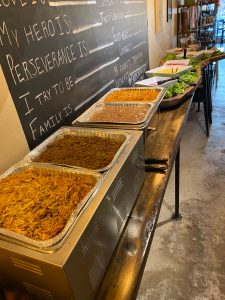 Taco Bar (Chicken, Pork, Beef, Shrimp, or variety) $8-$12/person
Fajita Bar (Chicken, Beef, Shrimp, or variety) $8-$12/person
Gyro Bar (Beef and Lamb blend. NOT AVAILABLE GF) $8/person
Burger Bar (1/3 lb All-Hat Beef Patties, Grilled Ralph's Smoked Sausage, Veggie Burger, or variety) $10/person
Potato Soup Bar $6/person
Mac 'n' Cheese Bar $6/person
Self-Serve Buffet $10-$15/person
We'll set up a line of food on warmers for self service. Includes an entre and two sides. Some of our favorite options are Beef Tips, Alice Chicken (honey Dijon), Italian Pork and Prosciutto, Meatloaf with Mashed Potatoes, Lasagna, Italian Pasta Salad, Sour Cream Chicken Enchiladas, Glazed Pork Loin, and Shrimp and Grits.
Charcuterie Boards +$150 fully refundable deposit for drop-offs
Basic $10/person
Basic with Deli Meat $14/person
Premium $16/person
Premium with Hand-Carved Meat $20/person
+ Add dips and sides $3/person
Plated Dinner $25-$30/person + staff
A full service dinner with assorted farmhouse china, silverware, and roaming servers. Attendance limits may apply.
Drinks 
Coffee, Iced Tea, and Water $2.50/person
Lemonade $2/person
Hot Chocolate $2.50/person
Deserts
Assorted Desert Trays $2/person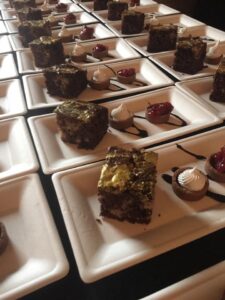 Cookies by the dozen $24
Banana or Pumpkin Bread Loaf (whole or pre-wrapped slices) $10
10 Inch Round 3 Layer Cake ($50 Regular, $110 GF)
By the slice pre-wrapped cakes or pies (Sheet cake $3, 3 Layer Cake $5, Pie $4, Not available GF)
Staff
To have servers there is an additional cost of $25 every hour per staff member (with limited exceptions). Plated dinners, served buffets, and caters in the cafe's dining room require staff, but the number varies.
---
Contact:
Send an email for a custom tasting and consultation at
116@farmsteadcafe.com
Or text or call
(405) 234 – 6042
---
Prices are approximations and are subject to change at any time.