Open for in-house dining, takeout, and curbside.
7:00 am – 2:00 pm Tuesday, Wednesday, Saturday
7:00 am – 8:00 pm Thursday, Friday
---
---
The building at 116 South Main Street has been a feature in Luther's history since it was built out of native stone in 1897. It has housed many things, including a saloon, newspaper, veterinarian, mercantile, and pollen manufacturer.
---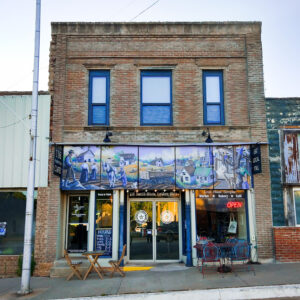 ---
When Matthew Winton of All Hat Cattle Co bought the building in 2016, he had an idea for something new, yet ultimately familiar.
A farm-to-table cafe.
From the beginning, Farmstead Cafe was designed to be community centered. We invest in local artists and producers, and have a blast participating in events and festivals around Luther.

The community table provides an opportunity to meet new people and catch up with neighbors and friends, because conversations naturally spring up between total strangers! Oklahoma is the cross-roads of America, so from Route 66 enthusiasts, international travelers, or just neighbors you don't often see, you never know who you'll meet.
Between the two signs reading "116 Farmstead Cafe" and "Eat Local Y'all," Farmstead Cafe features a mural by Bob Palmer that showcases Luther's agricultural history, from homesteads and farms to daily newspapers.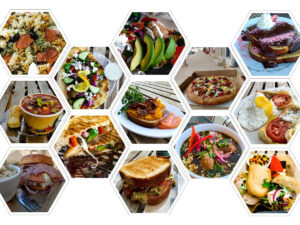 Our food has been described as  "sophisticated cowboy," "homestyle meets French and Tex-Mex," and "grandma food with class." We serve a variety of sandwiches, All-Hat burgers, salads, and made-from-scratch soups. Our meats are local and hand-carved, and our produce is seasonally local.
On Thursdays we serve our lunch menu through dinner time, and on Fridays, we also have dinner-style entrees. Some customer favorites are Sour Cream Chicken Enchiladas, Italian Lentils and Wild Rice, All-Hat Meatloaf, and herb-stuffed Porchetta. We like to think of our food as "Authentic Luther Cuisine," as many of the meals we serve are family recipes brought by our chefs.
We try to be accommodating to special dietary needs. Our entire menu can be made gluten-free (yes, including biscuits and gravy!), as well as many of our soups and specials. We also have pork-free options (such as beef bacon, turkey pepperoni, and chicken Italian sausage), dairy-free items, and vegetarian meals. 
One of the most important things for making good food is good, fresh ingredients. We're proud to partner with local producers to get lettuce, eggs, meats, fresh vegetables, and more! We believe the best way to support your community, not to mention get the freshest product, is to look no further than your neighbors and local farmers.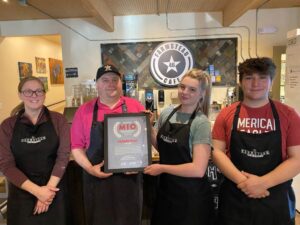 It was for that reason that in February 2020, Farmstead Cafe was named Restaurant of the Month by the Made In Oklahoma Coalition.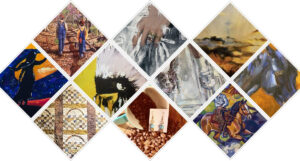 A similar standard holds true for local artists and artisans. Farmstead Cafe functions as a gallery space and market for local painters, jewelry makers, and craftspeople.
We also cater! Make our beautifully restored 19th century building your event venue, or let us bring the event to you.
We Value: Our Coworkers
We Value: Our Producers
We Value: Our Customers (that's you!)
---
---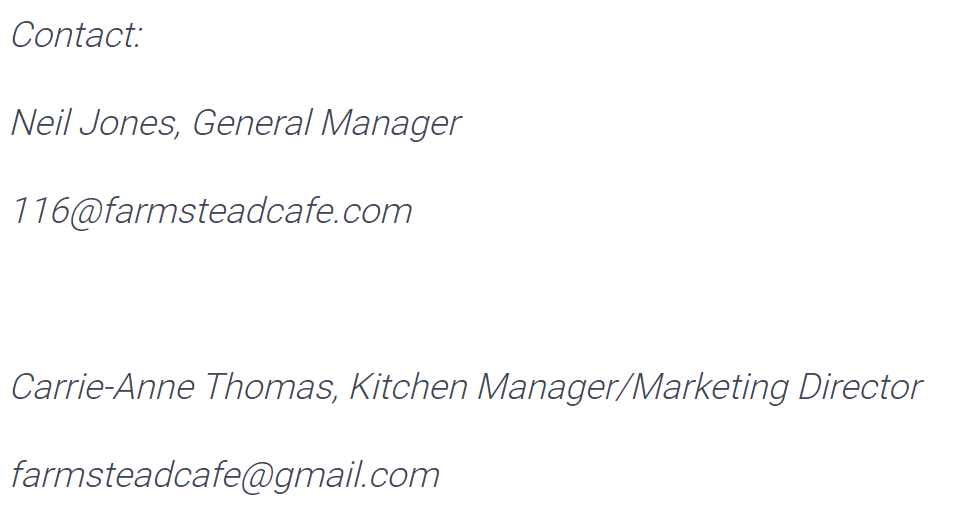 ---
116 S Main, Luther, OK 73054
Call or text (405) 234-6042